7 Resources Businesses Need During the Coronavirus Pandemic
"Getting sick together" or "staying well together."
Updated March 16, 2020
There is a significant amount of information being distributed about COVID-19. Wells Law is committed to supporting our local business clients during this unprecedented time and have compiled seven resources employers should know about to plan and manage during the coronavirus pandemic. You will find links below for information, guides, checklists and free posters available to employers as well as a sample temporary telework agreement for use with your staff.
These are going to be difficult times and businesses will be facing issues about employment, operations and financing. Wells Law welcomes the opportunity to be of assistance. PLEASE FEEL FREE TO CALL (614-702-7473) OR E-MAIL US TO DISCUSS ANY AND ALL LEGAL ISSUES AND CONCERNS FOR YOU OR YOUR BUSINESS.
As Brene Brown said recently, "This global pandemic is a real case of "getting sick together" or "staying well together."
Resources for Businesses
1. Ohio Department of Health Call Center
The Ohio Department of Health has established a dedicated coronavirus call center (1-833-4-ASK-ODH) that is staffed 9 a.m. – 8 p.m. daily as well as a dedicated website: coronavirus.ohio.gov.
2. Enhanced Unemployment Aid for Workers
Ohio Governor Mike DeWine is ordering the relaxing of some unemployment compensation requirements and timelines for COVID-19 impacted workers who do not receive paid leave and for people who have been quarantined due to COVID-19. Visit unemployment.ohio.gov for additional information.
3. Financial Support for Small Businesses and Non-Profit Organizations
Small business owners and non-profit agencies impacted by the public health crisis can apply for low-interest loans. Those impacted should immediately send their contact information to BusinessHelp@Development.Ohio.Gov.
4. Resources for Businesses and Employers
The Centers for Disease Control and Prevention (CDC) developed guidance for employers on how to plan, prepare and respond to coronavirus with clear instructions to employees and response plans. There are also customized resources for schools, community organizations, healthcare professionals and food service providers. Read more.
5. Free Workplace Handouts and Posters
Free posters on facts, tips and crisis communications are available from the CDC here.
6. Current Ohio Statistics & Guide for Employers
The Ohio Department of Health has current statistics on confirmed cases and a 2-page guide for employers.
7. Temporary Telework Agreement
The Supreme Court of Ohio provides a number of resources, including a continuity of operations template and a sample teleworking agreement for courts which we have modified and made available for your use here. (If this link doesn't work for you, please try this link.)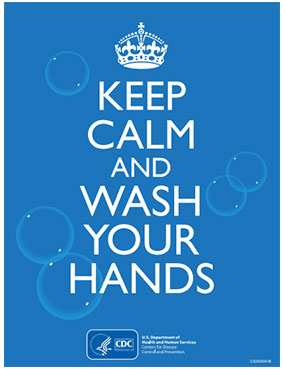 Families First Coronavirus Response Act
The federal government is actively working on legislation designed to give American workers job-protected leave and pay during the coronavirus outbreak. The Families First Coronavirus Response Act (pdf) covers a wide range of relief for Americans and provides nearly all American workers up to 12 weeks of medical leave and two weeks of paid sick leave for certain reasons related to the coronavirus. Read a summary here.
Support Local Businesses
I want to encourage you to support local businesses. According to Open Table, Ohio has experienced a 51% reduction in total seated diners vs. last year.
One way to provide immediate help is to BUY GIFT CARDS from local businesses. The business will get immediate access to cash now and you can use the gift card to purchase their goods and services when the COVID-19 crisis is over.
Upcoming Wells Law Lunch & Learn Workshops
April 30th – Company Culture & Recruiting for Small Businesses
May 20th – Protecting Your Client Lists, Marketing Strategies & Inventions with Restrictive Covenants (re-scheduled from March 19th)
View our schedule of events