Mindi L. Wells, Esq.
Education & Employment Attorney
Certified Civil Rights Investigator (ATIXA)
Mindi Wells is the Founder and Managing Attorney at Wells Law.  An attorney for over two decades, Mindi has extensive financial and organizational leadership experience that gives her a unique perspective in working with her clients.  She understands the need to carefully consider organizational culture and operational realities in providing legal advice to small businesses, entrepreneurs and colleges.   Mindi's clients appreciate her practical approach in simplifying legal complexities developed from years as a business professional herself.  Her no-nonsense style and humorous stories come from a career spanning over 20 years in leadership roles in human resources, financial administration and operations management in higher education and government.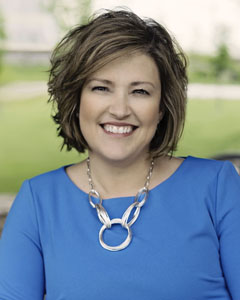 Mindi counsels employers on strategies to minimize workplace disputes, and reduce discrimination, harassment, workers' compensation claims, and FMLA and ADA issues.  She also assists employers on compliance with policies, state and federal employment, labor and benefits laws, and regulations including ERISA, HIPAA, FMLA, FLSA, ADA, Title VII, and workers' compensation.  In addition, Mindi also has experience in labor relations, public records, and education law including Title IX investigations and training.
A native of rural Allen County, Mindi is a first-generation college graduate and comes from a family of small business owners.  She earned both her juris doctorate degree and her bachelor's degree in economics from Ohio Northern University, and completed her coursework for her Ph.D. in Higher Education Administration at Bowling Green State University with a focus on ethics in leadership.  She is admitted to practice law in the State of Ohio, State of Florida, the U.S. District Court for the Southern District of Ohio, the U.S. Court of Appeals for the Sixth Circuit, and the Supreme Court of the United States. She is also a certified civil rights investigator by the Association of Title IX Administrators (ATIXA) and holds the Professional in Human Resources (PHR) certification from the Human Resources Certification Institute. In addition, she is trained in Lean Six Sigma methodologies.
Prior to forming her own business, Mindi was the Deputy Administrative Director/Chief Operating Officer for the Supreme Court of Ohio. While there, she was also tapped to serve as The Court's Interim Administrative Director and Interim Director of Human Resources.  In addition, Mindi has nearly fifteen years' experience in college administration, serving as the Assistant Dean for Administration and Student Services with the College of Law at Ohio Northern University, and as the University's first Director of Human Resources. Mindi also served as Of Counsel to Worley Law in Westerville, Ohio and worked for insurance defense firms in Gainesville and Ocala, Florida.
Mindi's other passion is teaching.  In addition to teaching at the undergraduate and graduate levels, Mindi is also a frequent presenter and trainer on employment law, HR topics, Title IX, policy development, and risk management.
When she's not working, Mindi enjoys roadtrips in her Jeep with her labradoodle co-pilot, volunteering in the community and exploring random festivals and restaurants.
Ask Mindi about: Snorkeling in the Galapagos Islands or black water rafting in New Zealand.
- State of Ohio
- State of Florida
- U.S. District Court for the Southern District of Ohio
- U.S. 6th Circuit Court of Appeals
- Supreme Court of the United States
- Ph.D. in Higher Education Administration (cognate: Ethics in Leadership), Bowling Green State University (Dissertation Phase/ABD)
- Juris Doctorate, Ohio Northern University Pettit College of Law
- Bachelor of Science in Business Administration (Economics & Political Science), with distinction, Ohio Northern University
- Certified Civil Rights Investigator, Association of Title IX Administrators
- Professional in Human Resources, Human Resources Certification Institute
- Lean Six Sigma White Belt & Camo Belt, Lean Ohio
- Lead Ohio Certification, State of Ohio Leadership Development Program
- Certified Court Manager, Institute for Court Management, National Center for State Court
- Equal Employment Opportunity (EEO) Academy, State of Ohio
Worley Law, Columbus, OH
- Of Counsel, Employment Attorney
The Supreme Court of Ohio, Columbus, OH
- Chief Operating Officer and Deputy Administrative Director
- Interim Administrative Director
- Interim Director of Human Resources
Ohio Northern University, Ada, OH
- Assistant Dean for Administration and Student Services, College of Law
- Director of Personnel Services (Human Resources)
University Teaching
- Capital University, Columbus, OH, MBA Program; Courses: Ethics & Social Responsibility and Workplace Justice; Business Administration Program; Course: Employment Law
- Ohio Dominican University, Columbus, OH, Masters in Healthcare Administration Program; Courses: Strategic HR & Employment Law, Healthcare Economics
- Columbus State Community College, Columbus, OH, Business Management Program; Course: Employee Benefits
- Ohio Northern University, Ada, OH, College of Law; Course: Interviewing, Counseling & Negotiations
- Bowling Green State University, Bowling Green, OH, Higher Education & Student Affairs Division; Course: Education Law PhD course – co-taught with Dr. Mike Dannells
- Rhodes State College, Lima, OH; Division of Business & Public Services; Courses: Employment Selection & Placement, Employee & Labor Relations, Compensation, Organization Behavior, Economics
Human Resources Association of Central Ohio (HRACO)
Women Lawyers of Franklin County
Ohio State Bar Association
The Florida Bar
- Out of State Division Executive Council member, 2004 – present
- Out of State Division Secretary, 2016 – present
- Young Lawyers Division Board of Governors, 2004 – 2010 (elected to three 2-year terms)
Ohio State Bar Foundation, Fellow
Hardin Leadership, 2002 Graduate
Past member of: National Association of College & University Attorneys (NACUA), College & University Professional Association for Human Resources (CUPA-HR), Ohio Association of College & University Business Officers (OACUBO), Association of Title IX Administrators (ATIXA), Society for Human Resource Management (SHRM)
- Experience Columbus, Volunteer
- Memorial Golf Tournament and Arnold Fitness Classic, Volunteer
- Mid-Ohio Food Bank and Community Shelter Board, Volunteer
- Columbus Recreation & Parks, Summer Softball League Team Member
- Center for Family Safety & Healing, Nationwide Children's Hospital, Bowling Fundraiser Participant
- Lima Memorial Health System, Volunteer
- Lafayette–Jackson Historical Society, Lifetime Member
- New Lawyer Mentoring Program, Supreme Court of Ohio, Volunteer Mentor
- Monthly HR Lunch & Learn Workshops
, Wells Law
- Employment Law Pitfalls for Business Owners, ScaleUp America Matchmaker Event, June 6, 2017
- Goal Setting: Are Your Employees Hitting the Mark? Lunch & Learn, May 24, 2017
- If You Ignore It, It Won't Go Away: Have the Difficult Conversation!, Women's Leadership Conference Sponsored by Brady Ware, May 17, 2017
- Performance Management & Performance Reviews, Lunch & Learn, April 19, 2017
- Weapons in the Workplace, Lunch & Learn, March 22, 2017
- Difficult People, Difficult Conversations, Lunch & Learn, February 22, 2017
- Supervisor Training: Coaching & Managing Performance, Hocking College, January 3, 2017
- Cuba After Castro: An Introduction to An Evolving Country and Legal System, webinar for Ohio State Bar Association (with Kevin Braig, Esq.), September 30, 2016
- Cuba After Castro: An Introduction to An Evolving Country and Legal System, presentation to Allen County Bar Association (with Kevin Braig, Esq.), October 4, 2016
- Title IX: More than Just Women's Sports, webinar for Ohio State Bar Association (with Jeff White, Esq.)
- Introduction to Title IX for Students, Hocking College (multiple dates in 2016 & 2017)
- Effective Employee Hiring & Selection, Ohio Chief Probation Officers Association
- Supervisor Skills & HR Basics for Court Personnel, Cuyahoga County Common Pleas Court, April 30, 2014